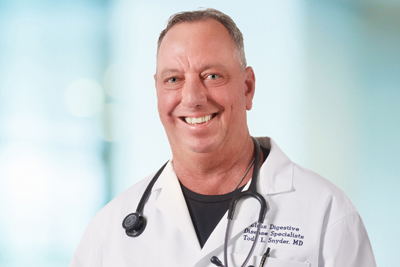 Dr. Todd Snyder, MD
Gastroenterology
Residency | Seton Hall University, South Orange, NJ
Fellowship | Seton Hall University, South Orange, NJ
Board Certification | Gastroenterology
Call Now
If you're experiencing symptoms, don't take any chances. We're here for you and you don't need a referral.

Monday – Thursday
8.30 am – 4:30 pm
Friday
8:30 am – 11:30 pm
Dr. Snyder is a caring and patient board-certified gastroenterologist with over 20 years of experience in the field. Born in New Jersey, Dr. Snyder studied at Emory University in Atlanta and fell in love with the South. After completing his residency and fellowship training at Seton Hall University, Dr. Snyder returned to the South, finding a perfect permanent home in Charleston.
The family raised their two boys here with Dr. Snyder coaching football and baseball in Mt Pleasant and Christ Our King. Dr. Snyder loves living in the Lowcountry, often on his boat in the tidal creeks looking for a redfish for dinner. He is also the father to his 3 beloved French bulldogs, Rambo, Petey and Barkley.
Direct Access Colonoscopy
2671 Elms Plantation Blvd
Charleston, SC 29406